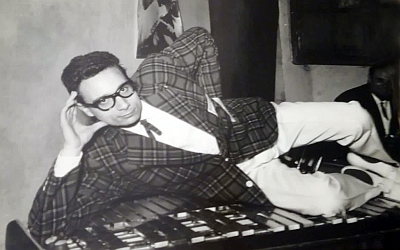 The Circolo Lucca jazz recalls the pianist and composer Antonello Vannucchi, known on the Italian scene in the 60s and 70s. His notes have become the soundtrack of  successful international films and TV series.
Il Jazz a Lucca: omaggio ad Antonello Vannucchi (Jazz in Lucca: homage to Antonello Vannucchi) is a dialogue-lesson and concert with Stefano Zenni, on Saturday 5 June at the San Francesco Auditorium to remember one of the most important musicians in the history of Italian jazz. In the fifties and sixties he played in the famous Quintetto di Lucca, later Quartetto, and for many years he was the pianist of the Rai Orchestra of Rome.
The program:
At 11:00 am - Sala del Capitolo at the Real Collegio | Dialogue-Lesson by Stefano Zenni: "Da Lucca all'Europa: il jazz italiano degli anni Cinquanta e Sessanta" ( "From Lucca to Europe: Italian jazz of the fifties and sixties") accompanied by a small documentary exhibition, "Momenti della Storia del Circolo del Jazz" ("Moments of the History of the Jazz Club"), which will be open in the afternoon until Saturday 12 June (free admission).
6:00 pm - San Francesco church and online on YT / Circolo Lucca Jazz | "Omaggio ad Antonello Vannucchi" ("Homage to Antonello Vannucchi") with three music intermezzos. The Jazz Orchestra of the Music highschool directed by the teachers. The Ensemble of the Lucca Jazz circle follows with music arrangements by Antonello Vannucchi curated by Marco Cattani. 4 di Lucca closes with the founding musicians Giovanni and Vito Tommaso, double bass and piano, accompanied by Vittorio Alinari, saxophone and Michele Vannucci, drums.
Reservations required by sending an e-mail to circololuccajazz@gmail.com
Online on www.eventbrite.it, from 12:00 pm on Thursday 3 June to 12:00 pm on Saturday 5 June.
Start / End Time
11:00 am - 6:00 pm
Place
Online / Real Collegio. Via della Cavallerizza / Chiesa di S. Francesco. Piazza S. Francesco - Lucca