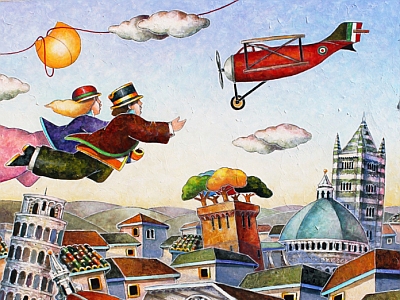 His characters are in an eternal movement, often fluctuating between real landscapes interpretated in a new vision inspired by fantasy. Personal exhibition by Francesco Nesi entitled "Il mio piccolo principe. Viaggio infinito ", curated by Maurizio Vanni and Filippo Lotti.
The exhibition is set up in the Lu.C.C.A. Lounge & Underground museum from 11 May to 20 June. The works of the Tuscan artist are based on the short story "The Little Prince" by Antoine de Saint-Exupéry with new figures about the travel theme, not only physical, but also as an interior journey.
Inauguration in the presence of the artist, on Saturday 15 May at 5:00 pm. Limited admission.
For Info and reservations: tel. +39 0583 492180 - info@luccamuseum.com.
Dates
May 11 / June 20, 2021
Start / End Time
tue / fri - 2:00 pm / 6:00: sat / sun - 10:00 am / 6:00 pm; closed on mon.
Place
Lu.C.C.A. – Lucca Center of Contemporary Art, Via della Fratta, 36 - Lucca