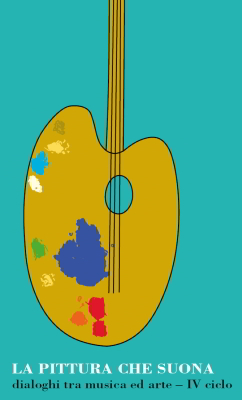 4th cycle of La Pittura che Suona, dialogues between music and art in various periods to give sound to the pictorial image.
The meetings are inspired by paintings representing music instruments. Interviews with practical explanations, projections and music performances, animated by art historians, musicians, musicologists, luthiers, who analyze the images chosen in a simple and informative way, creating a dialogue between history of art, history of music, history of instruments, organology and performance practice to give shape and sound to the constitutive, technical and functional elements that intertwine within the work of art.
In the program today:
Friday, April 30
4:00pm - National museum of Villa Guinigi | Gli strumenti musicali nell'arte medioevale. Guided tour with music interludes organized by Concentus Lucensis, Stefano Albarello and the museum staff.
Poster (.jpg) of the complete program.
Reservation requested. For inscriptions, reservations and information please write an email to concentuslucensis@gmail.com.
Dates
March 13 / December, 2021
Place
National museum of Villa Guinigi. Via della Quarquonia, 4 - Lucca