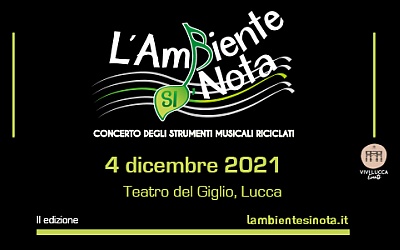 2nd edition of L'Ambiente Si Nota -  the festival of recycled music instruments. The culture of the environment, sustainability and solidarity through music is the basic idea of the event.
Guitars made from broomsticks, batteries with tin cans, even appliances and vegetables!
On Saturday 4 December at 9:00 pm at the Teatro del Giglio, Eco Christmas Concert with some Italian bands who have reinvented traditional music instruments transforming them into green new ones, through the use of recycled materials and vegetables: Conciorto, Gaudats Junk Band, Riciclato Circo Musicale, Maurizio Capone & BungtBangt, Manzella Quartet, Miatralvia and Bamboo.
Promoting Junk Music, with the use of instruments made with recycled materials, and Eco-Music, produced according to social responsibility criteria.
The online mini contest L'Eco Strumento che SI Nota also invites users to create their own "recycled instrument" to upload with a photo or video to Facebook and Instagram. The most original idea will be awarded, in collaboration with the music bands involved.
Place
Giglio theater, Piazza del Giglio 13/15 - Lucca