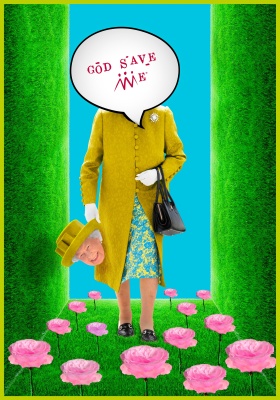 Headless women with imperfect bodies are the pop icons of the Tuscan artist Eleonora Santanni who also pays homage to Queen Elizabeth II with a site-specific project.
Everyday heroines who are not afraid to show off their imperfect bodies and challenge conventional aesthetic models to be reborn stronger than before. From 20 October to 29 January 2021, the Lu.C.C.A. Lounge & Underground museum hosts the exhibition entitled "Le Scapate. God save me! ", curated by Maurizio Vanni and Elisabetta Rizzuto.
Inauguration in the presence of the artist on Saturday 24 October at 5:00 pm.
With the project "Le Scapate", the artist creates a series of material works, digital graphics and installations on the theme of the female body, freeing herself from social obligations of defining her image, and representing in a regenerative and joyful catharsis headless female bodies.
An invitation to women to abandon fear and ideal aesthetic models to regain their bodies and femininity.
For Info and reservations: tel. +39 0583 492180 - info@luccamuseum.com.
Dates
October 20, 2020 / January 29, 2021
Start / End Time
Monday / Friday - 2:00 pm / 8:00 pm.
Place
Lu.C.C.A. – Lucca Center of Contemporary Art, Via della Fratta, 36 - Lucca