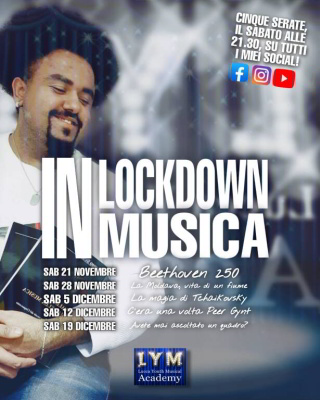 Lockdown In Musica is a project by Michele Sarti Magi, an activist and musician from Lucca. A collection of 5 short musical documentaries, on air every Saturday night at 9:30 pm on Sarti Magi's Instagram, Facebook and YouTube profiles.
The project, in collaboration with the Lym Academy, aims to approach young and old people to the world of classical and romantic music.
In the program on Saturday 12 December
9.30 pm - Online streaming on FB / mikeofficial97, IG / mikeofficial.97, YT / MikeChannelOfficial | Lockdown In Musica- C'era una volta Peer Gynt. Story of the life of the young Peer, protagonist of a great journey with the compositions of Edvard Grieg. A journey from Poland to Morocco, through Trolls, Brigands, dancers and many different characters.
Dates
November 21 / December 19, 2020