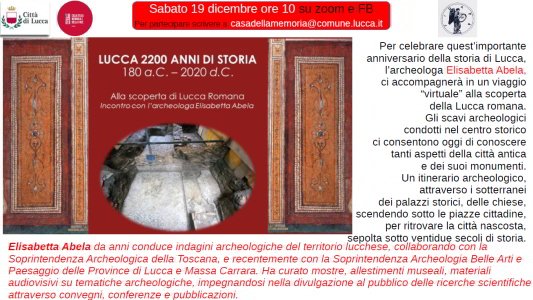 The Casa della Memoria e della Pace (House of Memory and Peace) organizes an online streaming entitled Lucca 2200 anni di storia. 180 a.C - 2020 d.C (Lucca 2200 years of history. 180 BC - 2020 AD) to celebrate the anniversary of the history of Lucca, with the archaeologist Elisabetta Abela.
The archaeological excavations carried out in the historic center reveal many aspects of the ancient city and its monuments through an archaeological tour through the undergrounds of historic buildings, churches, below the squares, to discover the hidden aspects of the city, buried under XXII centuries of history.
The event is scheduled on Saturday 19 December at 10:00 am on the Zoom platform and on FB / casadellamemorialucca for a "virtual" journey to discover Roman Lucca.
Reservations at the e-mail address casadellamemoria@comune.lucca.it.
Start / End Time
10:00 am