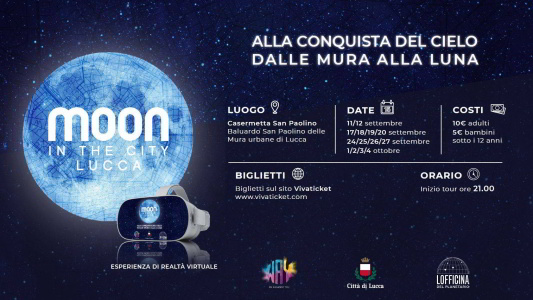 Nome della missione: Moon in the City Lucca; Luogo di lancio: le mura di Lucca; Obiettivo: La Luna.
Primo walking tour con guida live ed esperienza immersiva di Realtà Virtuale dedicato alla storia della conquista del cielo: dalle mura di Lucca all'allunaggio. Un viaggio virtuale nel tempo e nello spazio. Un'esperienza culturale, innovativa e scientifica alla scoperta delle mura di Lucca e della missione Apollo 11.
Il racconto della scoperta spaziale della Luna è accompagnato dalla musica live eseguita dai musicisti dell' Associazione Musicale Lucchese.
In programma da giovedì 1 a domenica 4 ottobre
ore 21:00 - Casermetta san Paolino. Baluardo san Paolino delle Mura Urbane - Lucca | Moon in the City Lucca. Passeggiata virtuale tramite visori Oculus per la Realtà Virtuale. Un volo nello spazio e indietro nel tempo, fino al 20 luglio 1969, data del primo allunaggio nella storia dell'uomo. L'audio ambientale, inserito nei visori, è parte integrante dell'esperienza.
Prenotazione obbligatoria sul sito VivaTicket.

Ogni tour rispetta il distanziamento sociale e l'igienizzazione dei visori e delle mani all'inizio e alla fine di ogni percorso.
La conformazione dei visori permette la visione  anche utilizzando occhiali da vista.
Dates
11 settembre / 4 ottobre 2020
Start / End Time
21:00 / 22:15
Place
Casermetta San Paolino. Baluardo San Paolino, Mura urbane - Lucca