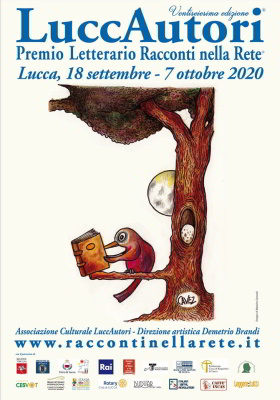 XXVI edition of the LuccAutori Festival linked to the XIX Racconti nel Rete Prize for Literature, conceived by Demetrio Brandi, president of the LuccAutori Cultural Association.
The festival is developed every year on the site www.raccontinellarete.it, where members can publish their own stories, as well as read and comment on those of others.
The event is accompanied by meetings, art exhibitions and short films. The twenty-five winning writers from all over Italy will be awarded during the meetings. Numerous meetings are also planned with the winners of the Racconti nella Rete award (twenty-five writers from all over Italy) and with well-known personalities from the world of culture and entertainment.
The experience is also enriched by a special section of children's stories and by the Racconti per Corti award reserved for subjects for short films which has been a great success since the first edition.
Scheduled today, Wednesday 7 October
10:00 am - Aula Magna ISI - Barga (LU) | Giovanni Pascoli, narrator of the future. Poetry, a chronicle of current events. The journalist and writer Chiara Lico meets the secondary school students.
Speakers Alessandro Adami, president of the Giovanni Pascoli Foundation and Demetrio Brandi, president of LuccAutori. With the participation of secondary school students.
LuccAutori's detailed program on the website www.raccontinellarete.it.
For information call +39 0584 651874 or write to info@raccontinellarete.it.
The event is included in the September Lucchese 2020 calendar.
Dates
18 september / 7 october 2020
Start / End Time
10:00 / 13:00
Place
Scuola I.S.I.. Via dell'Acquedotto, 18 - Barga (LU)