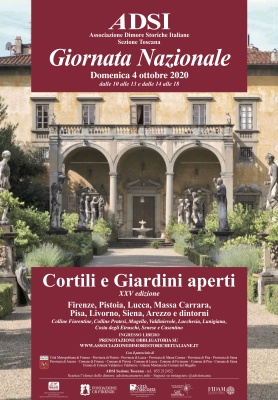 XXV edition of the open day of courtyards and gardens for the 10th edition of the National Day of the Italian Historic Houses Association which is held on Sunday 4 October. In Tuscany, over 105 historic locations including castles, fortresses, villas, parks and gardens have joined the initiative and open their doors for free to welcome visitors to unique places of Italian history and artistic and cultural heritage.
A network created by places representing a large museum spread throughout the territory. An opportunity to raise awareness of the role that historic homes have had in the past and continue to have today, both from a socio-cultural and economic point of view.
In Lucca there are 6 locations participating in the initiative:
San Francesco convent complex. Piazza San Francesco, Lucca - opening at 10:00 am / 7:00 pm. The church and cloister can be visited;
Park of Villa Torrigiani in Camigliano. Stradone di Camigliano, Camigliano locality, Capannori (LU);
Giosuè Carducci House. Via Valdicastello, Valdicastello Carducci locality, Pietrasanta (LU);
Park of Villa Grabau. Via per Matraia 269, San Pancrazio (LU);
Maria Teresa estate. Via della Pieve Santo Stefano 3427, San Martino in Vignale (LU);
Villa Fattoria Gambaro. Via Petrognano, 2, Capannori (LU).
Reservation required online by October 1st.
All information related to the opening times and conditions of the single residences and reservations are available on the ADSI website. The complete list of participating homes and activities carried out can be consulted on adsitoscananews.info
Start / End Time
10:00 / 13:00 - 14:00 / 19:00
Place
Lucca and surroundings