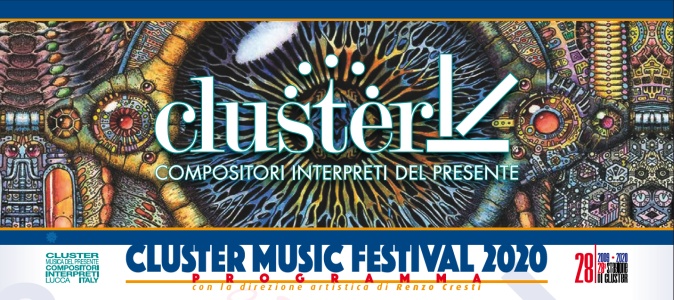 Cluster Music Festival is a particular contribution to contemporary music with events that include the presentation of new CDs and books dedicated to contemporary music, premier concerts, meetings with composers and scientists who relate their experiences to the connection between brain and music.
The association came to life to valorize the rich musical heritage of the city, in particular regarding 25 local composers, mostly young people, who proceed on the basis of a genetic concept, which from a musical point of view has made the city of Lucca great over the centuries.
In the program for this weekend:
Saturday 10 October
5:00 pm | Literary Café LuccaLibri. Viale Regina Margherita, 113 - Lucca
Presentation of the book La Scuola del Flauto Traverso by Salvatore Lombardi and Ombretta Maffeis (Curci, Milan 2019) in the presence of the authors and the flutist Filippo Rogai.
Sunday 11 October
5:00 pm | Oratorio San Giuseppe (Duomo Museum). Piazza Antelminelli, 5 - Lucca
Kermèsse of presentations: CDs & Books. The authors are present and live music is performed during the presentations.
Fabio Calabrò and Carlo Pedini with the ABBI strada compactDisc; Elisabetta Capurso with the compactDisc La Parola è il Suono; Alessandro Castelli and Andrea Benedetti with the CompactDisc Ianus;
Lorenzo Cimino with the compactDisc Mondo Volato; Antonello Cresti with the book La Risposta è nel Silenzio with an interview with Iuri Camisasca; Alessandro Fabbri with the Five Winds compactDisc;
Piero Gaddi with the compactDisc Opus One; Marco Lombardi with the book Materiali per la Composizione Musicale; Massimo Salotti with the CompactDisc The Fourth Way on Georges Gurdjieff; Marco Simoni with the compactDisc Musica a Colori.
For information: tel. +39 347 1856883 - presidency@clustermusic.net. Poster available (pdf format).
Dates
October 10 / December 5, 2020
Place
Literary café LuccaLibri. Viale Regina Margherita, 113 / Oratorio San Giuseppe (Museo del Duomo). Piazza Antelminelli, 5 - Lucca