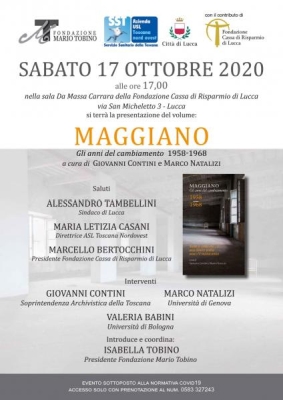 The Mario Tobino Foundation presents the book Maggiano gli anni del cambiamento 1958-1968. Tutte le volte che c'è una libera scelta non c'è manicomio (Maggiano, the years of change 1958-1968. Whenever there is free choice, there is no madhouse) in the Vincenzo da Massa Carrara Conference Room of the San Micheletto complex on Saturday 17 October at 5:00 pm.
Live streaming on the social channels of the Mario Tobino Foundation.
The book, dedicated to the history of the former psychiatric hospital of Maggiano, is edited by Marco Natalizi and Giovanni Contini. Published by the Mario Tobino Foundation together with Maria Pacini Fazzi. A DVD with the full interviews is included in the book.
Reservations are required at the organizing secretariat within Thursday 15 October by calling +39 0583 327243 or writing an email to info@fondazionemariotobino.it. Poster available (in pdf).
Place
Conference room "Vincenzo da Massa Carrara", San Micheletto complex. Via S. Micheletto, 3 - Lucca