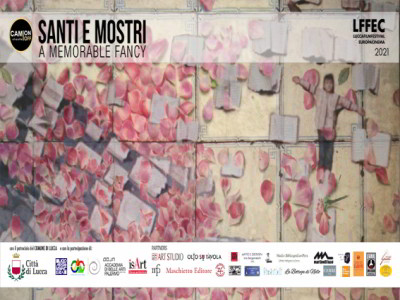 CAM ON / circuit OFF opens again the virtual exhibition inspired by the infinite religious repertoire, translated into a contemporary language. The exhibition entitled Santi e Mostri – a memorable fancy 2021 inaugurates the virtual gallery on the  camoncircutiooff.com website until the end of June.
Conceived as an exhibition "on the road" in the historic center of Lucca, it is an invitation to exhibit works inspired by the infinite religious repertoire, also translated into the contemporary times: female and male saints, martyrs and anchorites, monsters and demonic bestiaries, devils and temptations; miracles, prophecies and visions; forms of homage and devotion, fear and redemption: votive shrines, altars and tabernacles, ex-votos and PGRs.
In the program on Tuesday 27 April
7:00 pm - Live on FB / luccafilmfestival | Inauguration of the virtual gallery Santi e Mostri - a memorable fancy 2021.
Exhibition of new works by students, pupils and participating artists. The Gallery is constantly updated with new works, editorials, images and video incursions.
The Lucca Film Festival and Europa Cinema during the period of the exhibition offers some film screenings through a virtual room, deepening the theme of the exhibition from a cinematographic point of view. There will also be live meetings dedicated to film screenings, meetings with directors, industry experts and many other personalities from the world of culture and the film industry.
The section of the virtual gallery "Santi e Mostri" dedicated to audio-visual works is that of the Projections; videos and audio tracks are accessible - on various platforms and in different ways.
For further details please link to the virtual room and complete program on Santi e Mostri - A memorable fancy.
Dates
April 27 / June 30, 2021
Start / End Time
00:00 / 24:00
Place
website CAM ON/circuito OFF