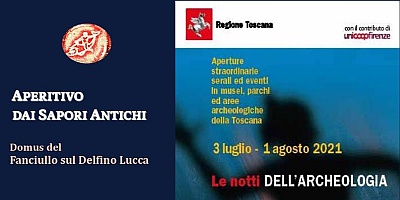 From 3 July to 1 August extraordinary late openings and events in museums, archaeological areas and parks for the Notti dell'archeologia - The Nights of archeology, a much appreciated appointment by visitors.
In the program on Friday 16 July
7:00 pm - Domus Romana Lucca | Aperitif with traditional flavors. On the program guided tour of the domus and tasting of Ancient Rome dishes: Libum di Catone, Sala Cattabia, Salsa Moretum, Hummus of chickpeas with Curcuma, quail eggs with Garum and Mulsum wine.
Compulsory online booking on the Domus Romana Lucca.
Dates
July 3 / August 1, 2021
Place
Domus Romana - Via Cesare Battisti, 15 - Lucca (LU)