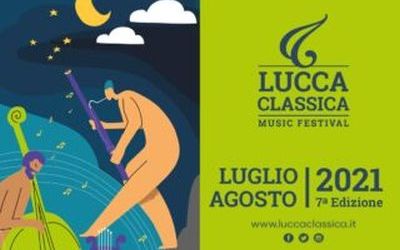 Great music and live concerts in new places with more than 40 events in the 7th edition of the Lucca Classica Music Festival, scheduled in the summer months of July and August.
The traditional anniversary edition is dedicated to Piazzolla, Stravinskij and Saint-Saëns. Insights on Napoleon and Dante Alighieri. A special memorial event dedicated to Ezio Bosso.
Scheduled on Friday 16 July
6:00 pm / 7:30 pm - Church of San Francesco | ucca Classica ricorda Ezio Bosso. Prova aperta - Beethoven. Lucca Classica remembers Ezio Bosso. Open rehearsal - Beethoven. ISSM Luigi Boccherini Orchestra; Anna Tifu, violin. GianPaolo Mazzoli, director. Music by L. van Beethoven.
(Admission fee: € 5.00)
9:15 pm / 10:45 pm - S. Caterina cloister. Real Collegio | The concerts of Pieve a Elici dedicated to Giorgio Serafini. Concert. Kirill Troussov, violin; Alexandra Troussova, piano. Music by L. van Beethoven, G. Tartini, C. Saint Saëns, C. Frank.
(Admission fee: € 5.00 / € 10.00)
Event included in the Real Collegio Estate festival.  Complete program Real Collegio Estate (.pdf)
Presales of the main events online on oooh.events. Complete program Lucca Classica Music Festival.
Dates
July 3 / August 30, 2021
Start / End Time
6:00 pm / 7:30 pm - 9:15 pm / 10:45 pm
Place
Real Collegio, S. Caterina cloister. Via della Cavallerizza / San Francesco church. Piazza S. Francesco - Lucca
Ticket
€ 5,00 - € 5,00 / € 10,00