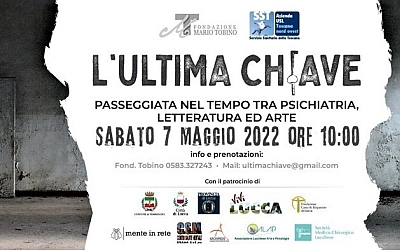 Walks in time through psychiatry, literature and art. An emotional tour inside the former Psychiatric Hospital of Lucca accompanied by artistic animations, Tobino readings, scenic actions, musical performances related to the theme of madness and artistic experiences of psychosocial rehabilitation, held in Maggiano in the 1960s.
A visit that allows participants to discover the figure of Mario Tobino, his life, his literary works and his personal vision of mental illness, described in many pages of his books.
The Museum, Tobino's rooms, the courtyard of the hospital, the well cloister, the cloister of the female and the male division, the radiographic laboratory, the art therapy room, the ancient stairs, the church, the cinema, the dormitory and kitchens. The path was conceived by the psychiatrist Enrico Marchi and the Lucca Art and Psychology Association, with the MT6 artistic group in collaboration with the Tobino Foundation, the Lucca Medical Surgical Society and the Archimede Cultural and Promotion Association.
The walks will be organized on the days:
12 February, 10 April, 7 and 15 May, 11 June at 10:00 am
12 March at 3.00 pm
For information and reservations: Tobino Foundation tel. +39 0583 327243 - ultimachiave@gmail.com
Dates
February 12 / June 11, 2022
Start / End Time
10:00 am
Place
former Psychiatric Hospital in Maggiano
Ticket
Admission with free offer