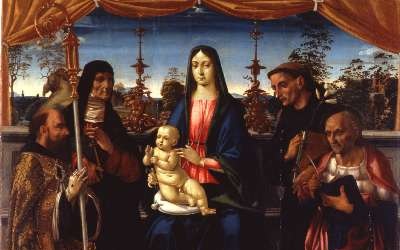 Insights on art between the fifteenth and sixteenth centuries in Lucca are the subject of the exhibition Nuovi studi su Matteo Civitali. Il Salvator Coronatus di Santa Maria Corteorlandini e la Madonna con bambino di Colle di Compito (New studies on Matteo Civitali. The Salvator Coronatus of Santa Maria Corteorlandini and the Madonna with child of Colle di Compito), dedicated to the most important sculptor ot the time in Lucca, until May 2022.
On Wednesday 13 October at 4:00 pm at the Villa Guinigi National Museum, conference in Italian language by Riccardo Massagli entitled Michelangelo di Pietro Membrini, il Maestro del Tondo Lathrop. Vita e capolavori di un pittore alla fine del Quattrocento (Michelangelo by Pietro Membrini, the Master of the Tondo Lathrop. Life and masterpieces of a painter at the end of the fifteenth century), on the interesting artistic biography of Michelangelo by Pietro Membrini.
Reservations are required at +39 0583 496033.
Place
National museum of Villa Guinigi. Via della Quarquonia, 4 - Lucca