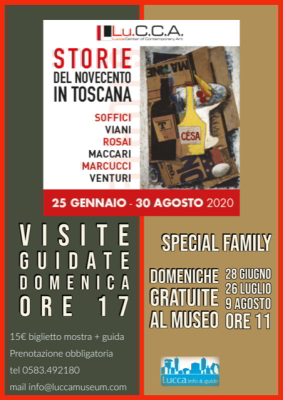 The Lucca Info & Guide Association in collaboration with the Museum of Contemporary Art Lu.c.c.a organizes guided visits to the exhibition Storie del Novecento in Toscana - Soffici, Viani, Rosai, Maccari, Marcucci, Venturi: Dal Ritorno all'Ordine alla conquista del "Disordine" (Stories of the Twentieth Century in Tuscany - Soffici, Viani, Rosai, Maccari, Marcucci, Venturi: From the return to Order to the conquest of "Disorder" until 30 August 2020. The exhibition, curated by Maurizio Vanni and Piero Pananti, including about eighty works with sculptures, large paintings and drawings, is divided into six small personal exhibitions spread in the eight rooms of the museum.
Meeting with the guide at the ticket office of the Lucca Center of Contemporary Art Museum in Lucca. Start of the guided tour at 11:00 am for approx. 1 hour. The service is offered in Italian.
The visit is free for families (entrance ticket to the exhibition + guided tour) respecting all  sanitation and social distancing rules foreseen by the law in this phase of health emergency. Reservations are required by email at info@luccamuseum.com or by calling +39 0583 492180. Groups of max 8 people.
Dates
28. Juni / 9. August 2020
Start / End Time
11:00 / 12:00
Place
Lu.C.C.A. – Lucca Center of Contemporary Art, Via della Fratta, 36 - Lucca