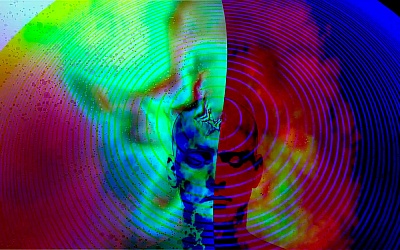 The 6th edition of Over The Real - International Festival of video art, in co-production with Lucca Film Festival Europa Cinema will be organised from Tuesday 12 to Sunday 17 October in the Conference room of the Ragghianti Foundation and the auditorium of the Palazzo delle Esposizioni in Lucca. The works can also be viewed online on the official website overthereal.com and on social media channels.
Over The Real presents the most significant lines of research that have emerged in recent years in the international panorama of audiovisual arts and intermediary performances. On display 53 works by artists from all over the world and a new section dedicated to virtual reality.
The Festival, directed by Maurizio Marco Tozzi, Lino Strangis, Veronica D'Auria (Carma, Rome), offers a wide range of formal solutions and linguistic methods dedicated to one of the most evolutionary languages ​​of contemporary art: video art.
A large section will be dedicated to training with educational meetings by artists and multimedia experts and a workshop by Lino Strangis dedicated to the creation of an interactive installation.
Talks and collateral events will be part of the program during the days of the event.
Lifetime Achievement Award to special guest Federica Marangoni, an artist and designer from Venice.
Reservations are required while seats last. For Information and reservations: www.overthereal.com – info@overthereal.com. Complete program available on www.overthereal.com.
Dates
October 12 / 17, 2021
Start / End Time
10:00 am / 9:00 pm
Place
Conference room Vincenzo da Massa Carrara, Fondazione Ragghianti. Via S. Micheletto, 3 / Auditorium Palazzo delle Esposizioni. Piazza S. Martino, 7 - Lucca