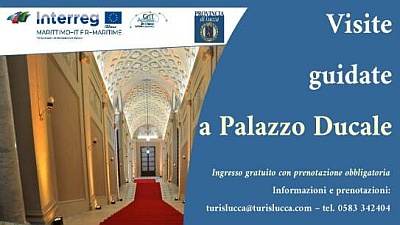 Palazzo Ducale opens its doors and reveals its secrets. From 9 to 31 July, guided tours on Friday afternoon and Saturday morning to the ancient government building in Lucca.
Tours for visitors are organized to discover the characters and events that have animated the courtyards, arcades and monumental rooms of this historic building over the centuries; from the medieval Lordships, to the oligarchic republic, to the French principality of Elisa Bonaparte, up to the Bourbon Grand Duchy.
The meetings, in collaboration with the TurisLucca association, are open to all citizens, tourist-cultural operators in the area and to social workers supporting people with disabilities. A sign language translator (Lis) will be present.
Scheduled this weekend:
Friday 23 July
4:30 pm - 7:00 pm - Guided tours of Palazzo Ducale (2 shifts).
Saturday 24 July
10:00 am - 12:30 pm - Guided tours of Palazzo Ducale (2 shifts).
Program: Welcoming and introduction to the objectives of the GritAccess project; introduction to local Git itineraries; focus on the pilot actions of the Province as part of this project; guided tour of the monumental rooms of Palazzo Ducale and guided tours of a stage of the Napoleonic itinerary in the city.
Reservation requested per email to turislucca@turislucca.com or by calling +39 0583 342404.
Start / End Time
10:00 am / 7:00 pm
Place
Palazzo Ducale. Cortile Carrara, 1 - Lucca