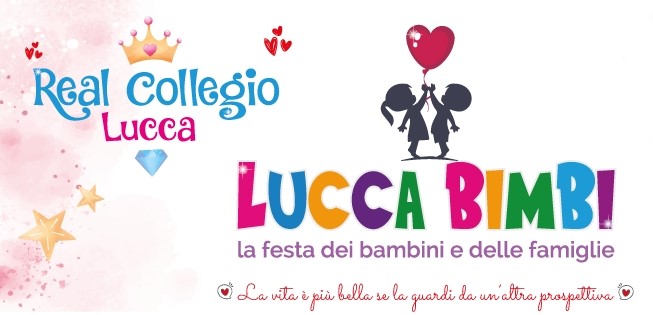 In the prestigious setting of the Real Collegio in Lucca, the 5th edition of Lucca Bimbi, the most important event in the town center dedicated to children (from 0 at 12 years) and their families, is organized. A big party with play areas, creative workshops, shows, fairy tales and attractions that involve all visitors.
Children can free their imagination and become the protagonists of a fantasy world, parents will enjoy pure fun and entertainment for the entire family.
A program full of shows, workshops, educational and creative areas, to experience the magic of the unexpected. Every single laboratory, content, creative area, show and artist has been carefully  selected to offer a wide range of cultural, educational and entertainment activities to encourage playing and the interaction between parents and children. Big news of this edition is the supplement expo area added  on the 1st floor of the "Real Collegio". A renewed edition with many activities, thematic areas, laboratories, fairy tales, science, prehistory, lego and much more.
In the program of LuccaBimbi 2020
Favoleggiando di Fiaba in Favola: a new fairytale itinerary that takes place in the rooms on the 1st floor. Over 100 meters of emotional path, with fairytale scenography and with the most appreciated fairy tale characters. From Belle, to Peter Pan, from Elsa to Alice, a path through imagination, an inner journey to discover the essence of new and old fairy tales.
Entertainment Area: new large area on the 1st floor where it is possible to attend the concert of Disney theme songs with the singer Sunita Zucca, the famous juror of the television broadcast "All Together Now" of Canale 5. Performance of the junior choir that will bring visitors back in time to the most beautiful songs of the Zecchino D'Oro. Another important moment will be represented by the Aladdin musical, which will perform a journey from Thousand and One Nights.
Science area: new in this edition is the area dedicated to biology to the discovery of animal tracks, the area dedicated to geology and chemistry with experiments and the simulation of a volcanic explosion.
Ancient history area: the archaeologist Marcella Parisi, museum educator, will be present together with her team of experts, offering workshops, archaeological excavations and the reconstruction of a prehistoric hunting camp.
LEGO area: with more than 200 m2 of space, more than 100 kg of bricks, workshops, beautiful landscapes, Duplo bathtub, a shop, and the exclusive new downhill track.
C'era una Volta il Gioco (Once upon a time there was a game): wooden play area; a vintage area that invites to slowness, and promotes parent / child interaction. Lots of wooden games, small shows of micro magic and juggling. A particulat atmosphere where you can rediscover the joy and calm of playing together.
Un set fotografico per voi! (A photo set for you!) A dedicated permanent area where you can participate in mini photo sessions in a set, in funny and natural style. Each family will get a free photo from the photos taken in the mini session.
English speaking area: Also this year many workshops where children will be accompanied on a fantastic journey, to discover the varied animal world with stories, games, make-up corner and many workshops that will be made with recycled materials to respect the planet and its resources. All activities and games will be in English.
There will be also many other workshops and events like the Parade of Disney Princesses, SpiderMan, and many other news.
The event also includes an expo area with the best themed articles, products and services.
Mini-food stations with tasty crepes, ice cream, cotton candy and popcorn, and the Food Area with sandwiches but also first courses, curry rice from Karē No Kuruma, which are also sponsors together with other ehibitors of the event this year.
The complete program is available on the official website www.luccabimbi.com.
Dates
October 17 / 18, 2020
Start / End Time
10:00 / 20:00
Place
Real Collegio. Piazza del Collegio, 13 - Lucca