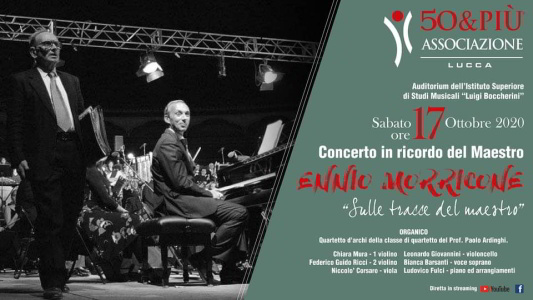 A great start  for the cultural activities of the association and university 50 & Più. On Saturday 17 October at 5:00 pm at the Auditorium of the Boccherini Institute the concert entitled Sulle tracce del Maestro (On the tracks of the Maestro) will be held in memory of Ennio Morricone.
String quartet of the class of Professor Paolo Ardinghi: Chiara Mura - first violin; Federico Guido Ricci - second violin; Niccolò Corsaro - purple; Leonardo Giovannini - cello; Bianca Barsanti - soprano voice. Concert direction: M ° Ludovico Fulci, Morricone's collaborator for about 15 years.
The program traces the extraordinary career of Morricone and some of his most famous  soundtracks that have been part of enormously successful films.
Reservation is required. The program can be downloaded here.
Direct streaming on the social media of the association and university (Youtube e Facebook).
Place
Auditorium ISSM Luigi Boccherini. Piazza del Suffragio, 6 - Lucca