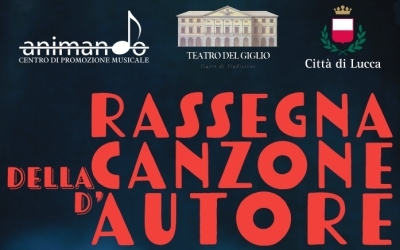 In the small San Girolamo Theater in the heart of Lucca the first Folksinger festival is staged.
Music and meetings on Italian songwriting, a popular musical genre that gained success in the last century, characterized by great authenticity and emotional strength, as well as expressive, musical and poetic abilities that made it become true art.

In the festival, a section is dedicated to Italian songs up to the middle of the last century and another larger section is aimed at the authors of the most prolific second half of the twentieth century.
Friday 18 March
5:30 pm -  Il giovane Lucio Dalla. Free admission.

Sunday 20 March
5:30 pm - A modo mio. Masterpieces of the young Lucio Dalla in the 10th anniversary of his death.
Michela Lombardi, vocals.
Marco Cattani Group.
Cataldo Russo, direction.
Presented by Alberto Paradossi.


For info and reservations please contact the Teatro del Giglio ticket office tel. +39 0583 465320 -  biglietteria@teatrodelgiglio.it and ticketone
Dates
febFebruary 25 / March 20, 2022
Place
Teatro San Girolamo. Via San Girolamo, 20 - Lucca
Ticket
€ 15,00. Concessions available.