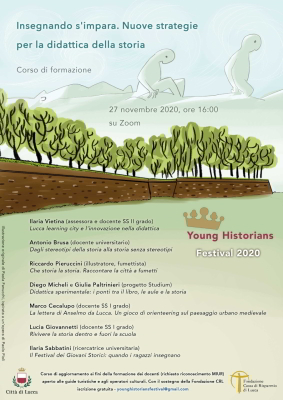 Training meeting about teaching and possible developments inside and outside the school, organized by the Young Historians Festival.
"Insegnando s'impara. Nuove strategie per la didattica della storia" ("Teaching is learning. New strategies for the teaching of history") concerns the new tools for teaching and useful approaches to stimulate a renewal in teaching and dissemination of history.
The experts involved are searching together for new storytelling strategies in the field of school teaching and dissemination.
Online meeting on Zoom.
The program:
Ilaria Vietina - Lucca learning city e l'innovazione nella didattica.
Antonio Brusa - Dagli stereotipi della storia alla storia senza stereotipi.
Riccardo Pieruccini - Che storia la storia. Raccontare la città a fumetti.
Diego Micheli e Giulia Paltrinieri - Didattica sperimentale: i ponti tra il libro, le aule e la storia.
Marco Cecalupo - La lettera di Anselmo da Lucca. Un gioco di orienteering sul paesaggio urbano medievale.
Lucia Giovannetti - Rivivere la storia dentro e fuori la scuola.
Ilaria Sabbatini - Il Festival dei Giovani Storici: quando i ragazzi insegnano.
The meeting is open to tourist guides and all interested cultural operators.
Mandatory registration at younghistoriansfestival@gmail.com to obtain the access link to the meeting for free.
Place
Streaming online su Zoom