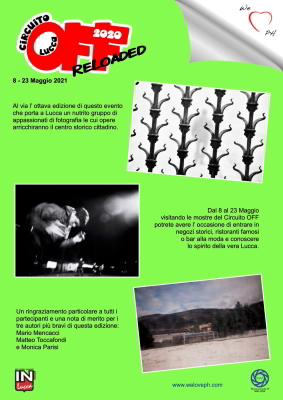 Lucca meets photography. The We Love PH cultural association organizes the 8th edition of Circuito OFF Lucca 2020 Reloaded. The historic center of Lucca is transformed into an exceptional stage for the selected works that from Saturday 8 May, the day of the inauguration, to Sunday 23 May, transform the city into a beautiful open gallery, where it is possible to admire photography in every corner.
A unique opportunity for authors to exhibit their free-themed works in unusual locations (shops, restaurants, hotels, professional studios, workshops, galleries) as part of an international event.
A special edition associated with the 4th edition of WeLovePhoto & Light, the photography day held on Sunday 9 May.
Place
Historical center - Lucca