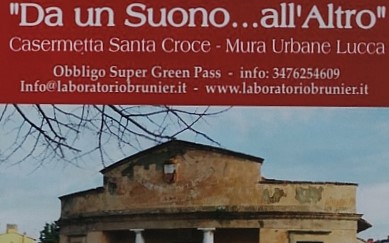 Da un Suono… all'Altro is a rich program of music events of the Brunier Laboratory association, with concerts, meetings and shows in the Casermetta Santa Croce on the City Walls of Lucca.
Scheduled on Wednesday April 6
6:30 pm - Clarinet ensemble.
Concert by the students of the A. Passaglia Musical Art High School of Lucca: Tommaso Andreotti, Greta Casotti, Giulia Mazzei, Matilde Tani, Luigi Scotti, Sara Bianchi, Valentina Accorsini. Musical direction by Lara Panicucci.
Music by J. Kyplayn, G. Gershwin, H. Mancini, A. Piazzolla, H. Ferrer, S. Bernardi, A. Ciesla.
Place
Casermetta Santa Croce. Mura di Lucca.