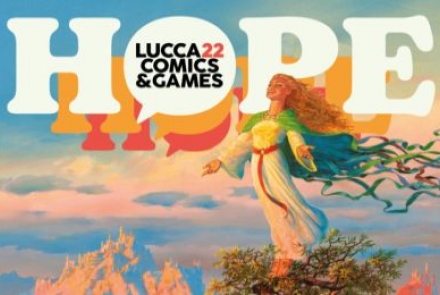 Hope is the theme of the 2022 edition of Lucca Comics & Games.
The godfather of imaginative realism Ted Nasmith, a great artist who has given shape to the visual universe of Middle-earth in the last forty years, is the author of the poster.
And with the 2022 poster, two monuments plus two join the pop iconography of the city and our dedicated journey.
The first time of the San Martino cathedral
The direct connection between Lucca Comics & Games and the city of  Lucca is perfectly represented by the portal of the San Martino cathedral with its infinite tale of men and history through images and hidden in inlays, bas-reliefs, sculptures, stained glass windows and mosaics ...
The saint warrior standing by the side of good is represented by the statue supported by two larger brackets placed on the facade. All around a swarm of images and voices, where millennial oaths carved in stone are flanked by promises of love emerging between the scrolls of the arches. French ribbons cling to animals and fantastic creatures on the columns: bears, dragons, doves, mermaids and gargoils.
The City Walls of Lucca, a monument that encloses and protects the Tuscan Minas Tirith
are added to the interpretations of the eight Riot Games artists of the 2013 poster and of the 100, 1000, 100,000 posters for Lucca Comics & Games 2018 created by the Roman cartoonist LRNZ in collaboration with studio Kmzero from Florence. Hundreds of different graphic elements are recombined to reconstruct their own new poster, but one thing never changes. The setting on the welcoming and protective city walls of Lucca.
In the focus there is Hope, Lady of the Dawn, inspired by Yavanna, deity of the Tolkien pantheon representing the healer of nature. The colors of the lady of dawn recall the Italian flag. Ribbons swaying in the wind symbolize freedom, creativity and diversity. The goddess guarantees the harmony between city and nature,
standing on a millenary olive tree, a local "monument" of harmony between man and nature, a symbol of peace and the source of the most precious product cultivated in our hills, for our nutrition.
And finally the middle earth, the Serchio valley with its fantastic creatures and legends fits perfect in a poster inspired by Tolkien.
After the Devil's Bridge in Michael Welan's 2010 poster, the peaks set in the background bring us back to the Serchio Valley. They recall the Apuan Alps, a natural marble cathedral unique in the world, populated by hobgoblins, witches, flying snakes, demons, dragons and aristocratic ghosts where the verses of another great inventor of fantastic worlds seem to resound, Ludovico Ariosto.
So, while waiting for Lucca to turn into the most fantastic city in the world, follow our fantastic journey through the posters of Lucca Comics & Games.