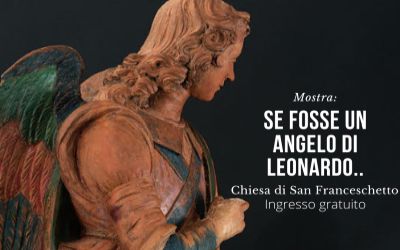 The Announcing Angel of the Parish Church of San Gennaro is  on display in Lucca after the restoration. It will stop in Lucca for the second stage of its journey, which will then take it back to its centuries-old location.
The painted terracotta statue is one of the most refined and enigmatic artistic artefacts in the Lucca area.
Attributed in 1973 by Carlo Ludovico Ragghianti to the workshop of Andrea del Verrocchio, in the 1990s to young Leonardo da Vinci by Carlo Pedretti and more recently to the Florentine sculptor Benedetto Buglioni, and close to the Della Robbia family by Maria Teresa Filieri and Giancarlo Gentilini.
The statue depicts the Archangel Gabriel in the moment immediately preceding the Annunciation. The restoration has returned a rediscovered masterpiece, restoring its original polychromy and consolidating the structure that had been severely compromised by the 1773 accident that shattered it into more than twenty pieces.
The exhibition is accompanied by a catalogue published by Polistampa with texts by Angela Acordon, Franco Filippelli, Monsignor Michelangelo Giannotti, don Cyprien Mwiseneza, Oreste Ruggiero, don Daniele Martinelli, Ilaria Boncompagni, Laura Speranza, Shirin Afra, Chiara Fornari, Chiara Gabbriellini, Mattia Mercante, Filippo Tattini, Monica Galeotti, Andrea Cagnini, Francesco Cantini, Calogero Saverio Vinciguerra. Introduction by Mikhail Piotrovsky.
Dates
18 September 2021 / 9 January 2022
Start / End Time
ven h 3:00pm / 7:00pm - sa/su h 10:00am / 1:00pm e 2:00pm / 7:00pm
Place
San Franceschetto church, piazza san Francesco, Lucca