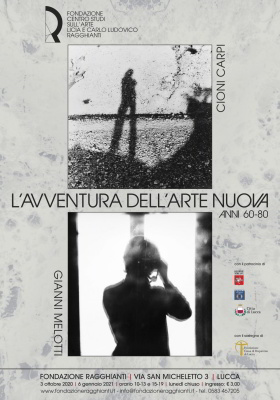 The Ragghianti Foundation organises the exhibitions L'Avventura dell'Arte Nuova. Anni 60 - 80 (The Adventure of New Art. 1960s - 1980s). From 3 October 2020 to 12 February 2021, two contemporary exhibitions that deepen the period of evolution in Italian art of the 1960s, 1970s and 1980s, rediscovering the figures of Cioni Carpi and Gianni Melotti , multifaceted artists that were very active respectively in Milan and Florence.
Two different artists having in common an amazing creativity that produced multiform works made with different materials that clearly identify the experimentation movement of Italian art between the 60s and 80s. A multifaceted and in many ways surprising journey.
The first exhibition, curated by Angela Madesani, is dedicated to the experiments of Cioni Carpi, the stage name of Eugenio Carpi de 'Resmini (Milan, 1923-2011), a complex and multifaceted character.
The second exhibition, curated by Paolo Emilio Antognoli, presents the results of an unpublished historical and archival research concerning the photographic work of Gianni Melotti (Florence, 1953) in his first decade of activity, from 1974 to 1984.
Opening on Friday 2 October at 12:45 pm.
A virtual tour, created by Red Studio, is available at the following link: http://storage.net-fs.com/hosting/6777520/0/ is also available.
Dates
October 3, 2020 / February 12, 2021
Start / End Time
Monday / Friday - 10:00 am / 1:00 pm - 3:00 pm / 7:00 pm.
Place
Ragghianti foundation. Monumental complex of San Micheletto, Via San Micheletto, 3 - Lucca
Ticket
€ 3,00. Ticket reductions scheduled.