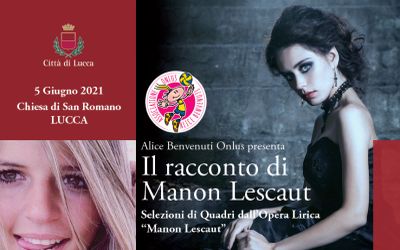 4th Spring Prom dedicated to Puccini with the show entitled Il racconto di Manon Lescaut (The story of Manon Lescaut), on Saturday 5 June at 9:00 pm in the San Romano auditorium. An event with music for charity organized by the Alice Benvenuti Onlus association. The proceeds will be donated to projects of care, aid to the families of the children in the Meyer hospital and in support of young people.
A selection of paintings from the opera "Manon Lescaut". Opera inspired by the novel by Abbot Antoine François Prévost, "History of the Knight Des Grieux and Manon Lescaut". Libretto by Luigi Illica, Marco Praga, Domenico Oliva. Music by Giacomo Puccini.
Manon Lescaut - Silvana Froli, soprano; Il Cavaliere Renato Des Grieux - Davide Piaggio, tenor; Narrator - Debora Pioli.
Quintet - Archi all'Opera; Maestro Concertatore - Massimiliano Piccioli.
Information and reservations by calling +39 392 5192474 or by writing to  info@alicebenvenutionlus.org. Poster (.pdf).
Place
Auditorium San Romano. Piazza San Romano - Lucca
Ticket
Admission with free offer (from € 15,00)