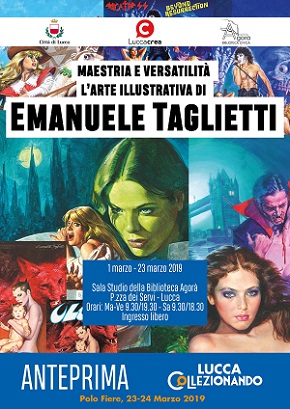 An exhibition of originals dedicated to the career of Emanuele Taglietti, an incredible artist of international level, undisputed master of the Italian erotic and famous designer. The exhibition, set up as a foreview events at the "Collezionando" comic show traces the career of Taglietti in a concise but exhaustive way: from the erotic covers for the Segi-Edifumetto (Zora la vampire, Sexy Favole and many others); to production as a set designer for great directors like Fellini and Montaldo; to painting with that ability to grasp, even in an ironic way, the essence of its models, among which we find great names of Italian comics ...
And then again the end carnettist able to make us travel in the neighborhoods of Buenos Aires, as well as classic illustrator and popularizing the illustrated pages of "Bell'Italia".
This is an opportunity to get to know him better, to admire his most beautiful works live, to be autographed on some cover, and collectors can order some commission of their favorite heroines.
Start / End Time
9:00 / 17:00
Place
Sala Studio Biblioteca Agorà. Via delle Trombe, 6 - Lucca